Annoying Status Updates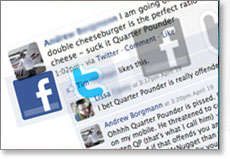 LOG IN to preview or send this comedy call.
Preview: MP3
Oh my God, you had sushi for lunch AND you hate Mondays?!? Well, I don't care! Send the "Your Status Updates Are Annoying" line to people who can't shut up on Facebook and Twitter.

Also see:
Stupid Groups
Stop Poking Me
Stop Writing on my Wall
You're An Addict

9,007 Annoying Status Updates calls have been made.