Call From the Easter Bunny
Dial & share this HumorHotline: 413-497-0168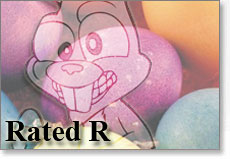 LOG IN to preview or send this comedy call.
Preview: MP3 or dial 413-497-0168 to hear this Comedy Call. It's free!
The Easter Bunny has recently been set free and he has a special message for all the kids out there. NOTE: The Easter Bunny message is NOT intended for young children!
8,994 Call From the Easter Bunny calls have been made.