Get Over It Day
Dial & share this HumorHotline: 413-497-0100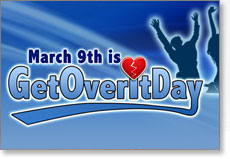 Preview: MP3 or dial 413-497-0100 to hear this Comedy Call. It's free!
Celebrate National Get Over It Day on March 9th! It's the day to celebrate putting things behind us! Send this poem to anyone who needs to get over something in their life. Read more about it at GetOverItDay.com
479 Get Over It Day calls have been made.