IRS Tax Extension (R Rated)
Dial & share this HumorHotline: 401-285-0068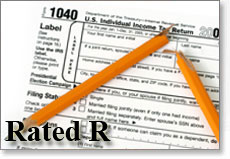 LOG IN to preview or send this comedy call.
Preview: MP3 or dial 401-285-0068 to hear this Comedy Call. It's free!
Ease the pain of tax season with a little humor this year. Send the IRS Tax Extension message and laugh at how ridiculous the system is.
3,389 IRS Tax Extension (R Rated) calls have been made.