Vietnamese Gibberish
Dial & share this HumorHotline: 516-833-3982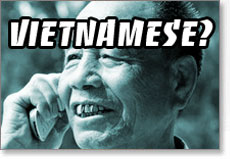 Preview: MP3 or dial 516-833-3982 to hear this Comedy Call. It's free!
Do we know what this guy is saying? No not at all? Does it make us laugh? Of course it does, it's hilarious. Send the Vietnamese Gibberish call for a laugh.
4,794 Vietnamese Gibberish calls have been made.